How is the shipping rate calculated?
The shipping rate for each parcel is calculated at mail out and is dependent on the destination, carrier selected, weight of the package, dimensions of the box and declared value. You can use our Shipping Calculator to estimate shipping rates based on these criteria.
What is dimensional (DIM) weight?
The DIM weight refers to the dimensional weight of a package based on size rather than the measured "gross weight". To price international shipping, carriers charge the greater of measured weight or DIM weight based on the size of the box.
DIM weight is calculated as (length × width × height) / (dimensional factor)
Dimensional factors are determined by each carrier, UPS may use 194 while DHL Express uses 169. Your package DIM weight may vary by carrier for the same size box.
How long can I store my package in the warehouse?
Packages can be stored for up to 180 days in our Gurgaon, India as well as in Neveda, USA warehouses for MY MAILBOX subscription. Free membership ( Only 1 Plan ) provide storage time for up to 90 days. Packages not mailed out within these time frames will expire and not be visible within your account. If you fail to mail your package out before the storage expires, you have the option to purchase up to 15 days of additional storage time. When you select to extend the storage for an expired package, you will be assessed a fee of  Rs.400 + Rs.50 per day that the package has been expired. This will extend your storage for an additional 7 days.
We make every effort to notify you of any packages approaching their expiration date. Please ensure that you have support@indianmailbox.com added to your address book or whitelist to ensure that you are receiving these notifications in your inbox. 28 days past the original expiration date, the package will be considered abandoned and subject to disposal.
Can I or someone I designate pick up my package in person at the IndianMailBox warehouse? How would I do it?
Unfortunately we do not provide the pick up facility as of now because of some security aspects involves in the process.we care for yours items as ours and we cannot give even a 0.001 % chance to someone who is not authorised or an unwanted element.scammers! stay away!
What happens if I forgot my suite number when ordering with my Indian or USA address online?
Normally there is no issue and the package will be entered into your account. However, if your package was delivered and is not entered into your account within 1-2 days, we will conduct an investigation.
If you don't see your package in your account within 2 days, please submit a support ticket providing the tracking number and any other additional information about your package to assist our investigation. There are additional fees incurred if your package arrives without the proper address, including your suite number.
My carrier stated that they were not able to deliver my package. What happened?
We suggest you contact your carrier if there was an issue delivering your package. There are several factors that may contribute to an undelivered package. It's possible they delivered past our closing time or there was a collect-on-delivery (COD) fee.We recommend to provide our contact number as 9999507339 / 9810601060 ( India ) or 213233946 / 7024728620 ( USA )  whenever order any item from online shop so that incase of any issue the courier guy can get in touch with us.We also recommend you to fill out " expected packages" field after logged into yours indianmailbox account and we will take care of them.
Will you notify me after my package arrives to your warehouse?
Yes, we will email you once your packages are checked in and entered into your account.
What do I do after my package is received into the warehouse?
After your package has been processed into our warehouse you need complete the customs declaration form and instruct us to ship your items.you can perform this by logged into yours account at www.indianmailbox.com/login and create a shipment to send out to yours desired destination.There after you have to fill out the declaration form. Once the declaration is done, the package can then be scheduled for mail out by choosing the carrier, insurance, and having the necessary funds available in your IndianMailBox account.if there is not enough funds available in yours account then you can simply click on " Add Credit" tab for the desired amount.
When is my shipment going to be mailed out?
Most mail out requests are completed within same day if placed before 1:00 P.M Indian Standard Time else it will take 1-2 business days. Depending on time zones, weekends, Indian holidays and carrier pickup schedules, times may vary.
We get daily pickups from the following carriers:
UPS -          Daily
Aramex  -   Daily
DHL -         Daily
Delhivery - Daily
How do I place a consolidation request?
Placing a consolidation request is simple.
If you are a Premium member ( My Mailbox account holder ) you have access to our consolidation service. Please refer to our fee schedule for associated costs.
Consolidation is a process where we take smaller packages and put them together into one bigger box. Please allow up to 24 business hours for all consolidation requests to be processed.

1. CHOOSE A CONSOLIDATION OPTION
 
Keep the outside box
Keep retail packaging
Keep the product only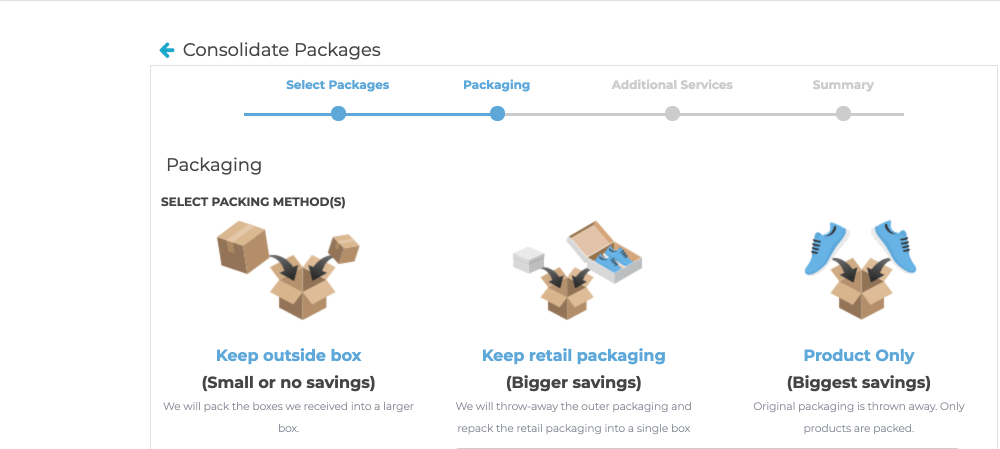 2. CHOOSE YOUR BOXING OPTION

Standard Box Size: (This is set by default)
Your items will be packed in the smallest standard box, the box will be cut down if there is extra space and packing materials will be added to secure your items with the tightest fit. Packages which don't fit in the full consolidated box, can be selected to either be A) consolidated in another box or B) returned back to your mailbox

Custom Box Size
If you are shipping items which require a custom-made box, there will be a Rs.200 surcharge to create a custom size box for your item. Items like guitars and golf clubs are examples of items which will need custom boxes. We do this to protect your items and comply with shipping regulations.
 
We don't recommend consolidating packages bigger than 26"x13"x13". Larger packages have an increased risk of damage during shipping.



 

3.

CHOOSE ADDITIONAL SERVICES (If You Need It)





We provide additional options to be added to your consolidated (combined) package/s




 
Express consolidation processing Rs.200  
Remove Invoice : Free 
Remove Price Tags: Free
Extra Bubble Wrap : Rs.100
Other Request : Rs.100- Rs.400 depending on the nature of your request.



 

4.

THAT'S IT! YOU ARE DONE :)

Once we consolidate, we measure the new package and weigh it again. We also take a photo of all the items being consolidated in order to ensure greater accuracy. If you would like more photos, please use the "Additional Services" as shown above.
Are there fees associated with a consolidation?
Yes, there is a consolidation fee for each package you choose to consolidate. Our Premium members ( My Mailbox Plan ) have access to use our consolidation service. If you are a Standard member ( Only 1 Plan )  interested in trying a consolidation, you can upgrade to My Mailbox for a month to try out this service
I don't see a price for shipping when placing my consolidation request. Why is that?
Shipping rates for a consolidated package cannot be determined until the consolidation has been completed. Shipping rates and available carriers are based on the dimensions and weight of the package. This information will be updated in your account once the consolidation has been completed and a new package ID assigned. You can get an estimate from our shipping calculator.
Are there any restrictions on items I can send through IndianMailBox?
Yes, please refer to our Prohibited and Restricted Items list.
How can I return my package to the merchant?
There a couple of ways that you can return a package to the merchant. To learn more, please view our Tutorial.
How do i avoid problems with packages?
Problems do happen with shipping, but there are many simple steps you can take to help prevent the most common issues. 

1. Always review the contents of your packages : When you receive a package, ask us to check the contents immediately. You can do this through the "Special Request" function in your account. 

Selecting either TAKE PHOTOS or FILL CUSTOMS DECLARATION will tell you what's inside of the received package. 

Taking photos or letting us check the package is the only way to see if your products arrived in good condition. If you don't ask us to check, we cannot accept any claims about the condition of the products later. We can even take photos of each package immediately upon its arrival. 

Multiple shipments can also be confusing. Stores often split up a single order into multiple packages. For example, if you order two pair of T-shirts, the retailer will send you the first package containing one pair of tshirt and the second shortly after. If we receive just one package, it doesn't mean that there are items missing, it simply hasn't been sent yet. We can always take photos when the package arrives to confirm the contents and condition of the package. 

It is not uncommon for retailers to make mistakes. We do many " BUY FOR ME" purchases every once in a while a retailer will send either the wrong item, wrong size or completely forget to include certain items. Even though the packing list might list all items, the actual package might be missing something. 

Shipping companies also make mistakes. We've seen replacement labels with misspellings, wrong/incomplete addresses and more. You can never be too secure when dealing with your package. If you ever notice anything suspect about your package inform us. Only you know what you ordered and what should be arriving. 

If you see your package has arrived in our warehouse and hasn't been entered in 24 hours, please file a claim immediately through your client account. The faster you tell us, the sooner we can solve any issues and assure that the package is not sent to the wrong person. 

Package shows different content than custom declaration. We do not compare the customs declaration when mailing out the package or during the consolidation. If you would like us to personally fill out the custom declaration, you must place a special request. If you fill out the Customs declaration filled without seeing the package, there is no guarantee of the contents. Again, you can always request pictures of the package contents. 

2. Consolidation photos : We always take photos of contents during consolidation. This is a perfect way how to have further control of what was consolidated. 

3. Missing Items : Photos are great way for you to know what is inside your packages, and also the best proof for insurance claims. If an item is missing, it will be very helpful to have a official letter from your customs office or post office showing a loss in weight. Please upload this letter to the claim together with the invoice from the seller showing declared value of all items in the package. Explain which exact item is missing and we will file an insurance claim. 

4. Misplaced package or address If you believe that you received a package which belongs to someone else, please notify us immediately. Take photos of the package including: shipping labels, package number and photos of the content (including packing list). We will let you know what steps to follow next. We will also ask you to forward the package to the correct person and we will compensate you for the work and postage.
Can i request photos of my items received under my name?
Why take photos?
To double check that correct items were received and forwarded by us. Please read a more detailed explanation below.

How long does it take?
1-2 hours to process
(Monday-Friday in the india, excluding national Holidays).

How do I do it?
1. Login to your account
2. Select "INBOX"
3. Select "ADD ADDITIONAL SERVICES" by the package you want photos taken off.

We offer two options when it comes to photos:

One photo request
We will open your package and take one photo of the contents. This is the FREE request which gives you an idea of what items are included in your package. Do not expect a detailed shot. Typically, it is one photo showing all items contained in the package spread out on a table.

If the content of package does not fit in the area of 36x36 inches, we will automatically charge for a multiple photo request.

Multiple photo request
This request gives you close up and detailed photos of the items in the package. We will also take a photo of the invoice or packing list (if enclosed). Also, photos of labels on clothes and other items so you can verify that the correct sizes were shipped. This also includes model numbers for electronics and the IMEI number for iPhones.

We take photos based on our best judgment. If you have a specific requirement, please use OTHER INSTRUCTION (Rs.200) and explain how you would like the photo to be taken in detail. We will not break factory seals and take pictures of the product box in One or Multiple photo request. If you wish us to inspect the product and take more detailed photos, please use OTHER INSTRUCTION.
 
What is the weight and size limit for my package?
India Post Economy has a limit of 4.4 lbs / 3.00 kg's. dimensions must be less than 24 inches in length and the sum of all dimensions cannot exceed 36 inches.
Aramex Priority has a limit of 44 lbs / 35 kg's. dimensions must be less than 59 inches in length and the length + girth cannot exceed 118 inches.
UPS has a limit of 70 lbs / 65 kg's. dimensions must be less than 42 inches in length for priority, 36 inches for express. Length plus girth must be less than 108 inches.
FEDEX has a limit of 75 kg . Dimensions must be less than 1.2m x 0.8m x 0.5m
DHL has a weight limit of 50 lbs, dimensions must be less than 39 inches in length.
DELHIVERY has a weight limit of 30 kg, dimensions must be less than 300 cm in girth, and less than 175 cm in length.
My package states that it has already delivered for me in the warehouse but i can't see it in my account?
Packages delivered to our warehouse require 1-2 days (Monday-Friday in INDIA, excluding National Holidays) to be received and processed into your account. If your package does not appear in your account after 2 days, then there is a possibility we were not able to process your package (suite number missing, shipping label faded, shipped to a name not associated with your account, etc.).Please submit a support ticket providing the tracking number and any other additional information about your package to assist our investigation.
The retailer sent me multiple packages even though I only placed one order. Will you charge me for each package separately?
Yes, we charge a Rs.100 processing fee for each package we receive into your account. This fee is deducted from your balance when the package is mailed out or disposed. To cut down on these per-package processing fees, many retailers allow you to request your purchases be shipped in as few boxes as possible.
For example, Amazon has an account preference titled "Group My Items into As Few Shipments As Possible," reducing the number of packages received.
We also recommend consolidating multiple packages into a single box before mail out to save up to 80% on the cost of international shipping.